Announcement of the beginning of the collaboration for the development of "YADOCAR-I Drive." involving ATI, Tokai Clarion, and JAXA.
NEWS AND ACTIVITY
Our latest
News & Activity
NEWS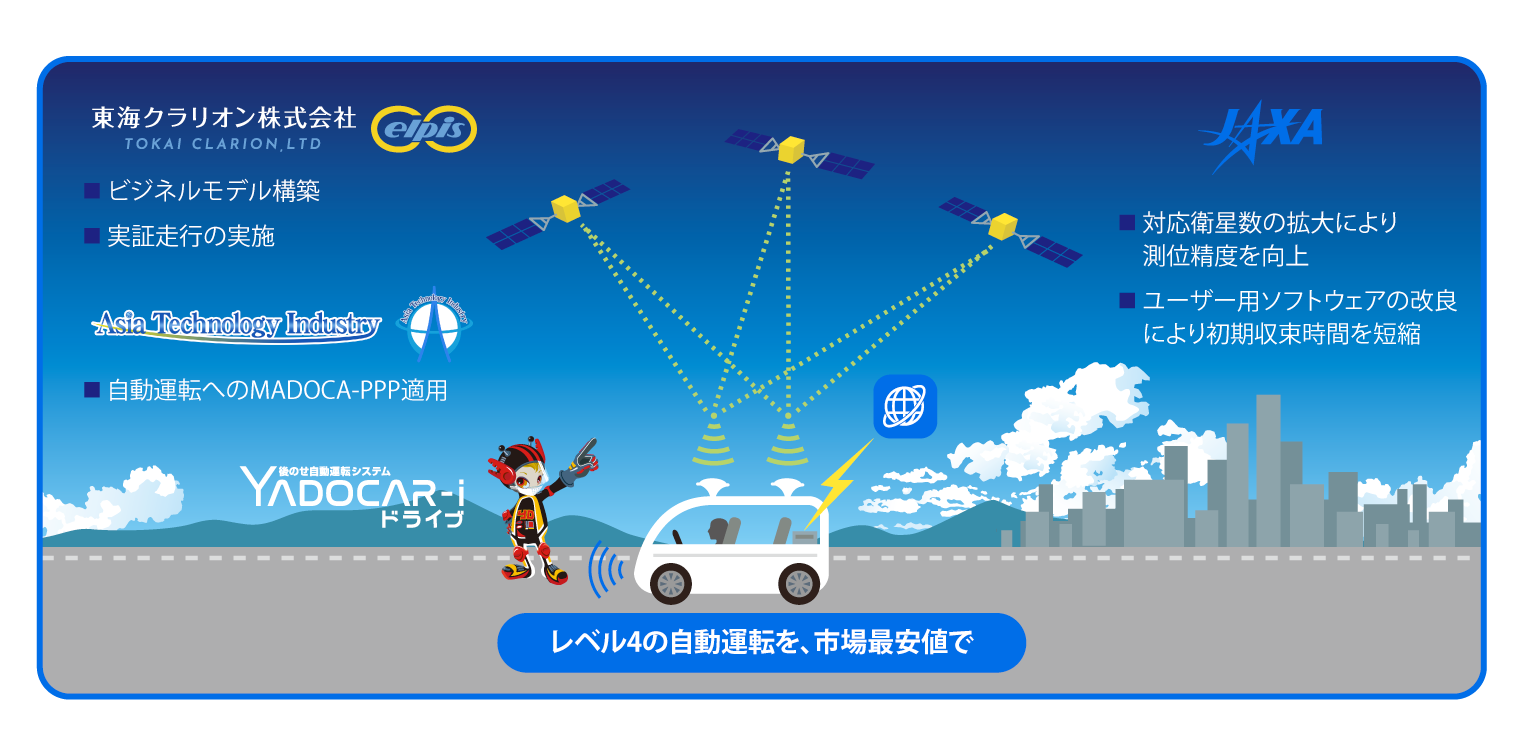 Announcement of the beginning of the collaboration for the development of "YADOCAR-I Drive." involving ATI, Tokai Clarion, and JAXA.
Since June 2023, collaborative efforts have been underway for the development of "YADOCAR-i Drive" involving Asia Technology Industry Co., Ltd. (ATI), Tokai Clarion (TCL), and Japan Aerospace Exploration Agency (JAXA), aiming to establish a business-related to space innovation through the JAXA Space Innovation Partnership (J-SPARC) project.
In this collaboration, ATI and TCL have jointly worked on the advancement of an autonomous driving system at level 4. This system allows vehicles to drive autonomously on roads without the need for a human driver, yet still enabling human intervention and control. It is named "YADOCAR-i Drive" and integrates JAXA's highly accurate position-determining technology called "MADOCA-PPP". The utilization of MADOCA-PPP ensures precise vehicle positioning. The focus of this cooperative effort is to enhance the accuracy and safety of urban travel, particularly in areas with a significant elderly population and popular tourist destinations that require reliable and safe transportation options.
How did the collaboration begin?
The concept behind this autonomous driving system originated from the need for self-driving vehicles on specific, low-speed routes, particularly in the outskirts of cities which have now turned into elderly-populated areas. This autonomous vehicle, known as "YADOCAR-i Drive," aims to facilitate safe and cost-effective travel for the elderly in the suburban areas, which comprise over 2,000 cities in Japan.
Furthermore, the autonomous driving system has gained attention for transportation between lodgings and tourist destinations in various countries. To cater to these demands, ATI and TCL joined forces in a collaborative effort to develop "YADOCAR-i Drive." This autonomous vehicle has been meticulously modified to retain ease of use while reducing components to the bare minimum, ensuring its versatility for use across different regions.
YADOCAR-i Drive utilizes the QZSS satellite system and leverages signals from satellites numbered 2 to 4, along with other newer satellites in the L6E signal category. This technology aids in pinpointing the vehicle's location with remarkable centimeter-level accuracy, also known as MADOCA-PPP.
Content of the Collaboration
ATI will be responsible for developing the autonomous driving system by creating a multi-GNSS receiver that communicates with MADOCA-PPP. This will enable the production of autonomous cars and a variety of driving tests, with adjustments made based on the test results to progress toward a highly efficient autonomous vehicle.
TCL will serve as the presenter of "YADOCAR-I Drive," the autonomous car model, to both public and private entities in the tourism sector. They will also organize test drive activities to demonstrate the functionality of the autonomous car.
JAXA will oversee and develop the satellite positioning system to enhance accuracy, focusing on optimizing the efficiency of the MADOCA-PPP system for a diverse user base with varied usage requirements and environmental conditions. The autonomous cars developed through this collaboration will utilize L1/L5 signals from QZSS satellites in conjunction with China's Beidou system, which comprises more than 30 satellites.
Additionally, the collaboration will involve the development of the MADOCA-PPP system through the collection of route data within urban and mountainous areas. This data will be instrumental in advancing software (MALIB) development, allowing for faster operation, reducing the operational time from 20 minutes to just 1 minute.
Throughout the initial two years of this collaboration among the three organizations, "YADOCAR-I Drive" will be developed and tested using the MADOCA-PPP system. Data will be gathered, and continuous development will take place in a "feedback loop" fashion, ultimately aiming for real-world deployment.
Goals
The development of an autonomous driving system is envisioned to contribute towards the transformation of cities into "Smart Cities," embracing intelligence and technology. The utilization of satellite-based positioning in autonomous vehicles aims to address transportation challenges in various regions, especially where the use of conventional autonomous cars proves financially burdensome. Striving to offer the most cost-effective autonomous car in the market, this initiative is poised to bring substantial benefits to the elderly, individuals with mobility impairments, and tourists visiting destinations lacking public transportation. We anticipate that the heightened convenience and revenue-generating potential will ultimately offset operational costs.
Powered by Froala Editor